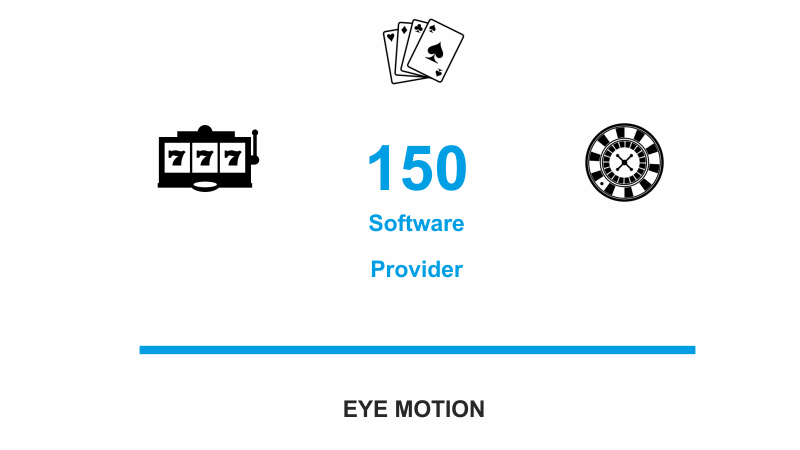 EyeMotion has 150 software providers partners
EyeMotion, Global Gaming has been in iGaming industry for 5 years. During this period it has managed to have its own place due to its hard work, good team and products.
Working in global market, EyeMotion succeeded to get a lot of partners from different countries of the world – the UK, Malta, Japan, Russia, Germany, Israel, USA, Bulgaria, Romania, Netherlands.
Summarising the results of the recent months' work, we can mention easily, that since now EyeMotion has opportunity to provide its customers with products worked out by more than 150 software providers, such as Sportsbook, Slot games, Branded slot games, Video bingo, Live Casino, Skill games, Baccarat, Roulette, Scratch games for different markets.
This gives our customers a unique opportunity to do their iGaming business using our casino platform, which will allows to have the products for more than 150 companies in one platform.
One more advantage, enlarging the list of payment systems, we can suggest integrating casino platform, in 98 payment systems.
Following the customers' and market's requests, EyeMotion team gives chances to get online casino license with the help of its partners.
"Remaining loyal to the slogan: EyeMotion, Global Gaming, we secure our presence in global market – providing our global customers and partners with unique chances", says EyeMotion CEO Vardan Meliksetyan.
About Eye Motion:
Eye Motion is a B2B software provider for iGaming industry, which creates HTML5, branded slot games, Intellectual Property games with custom Eye engine, online casino platform and social gaming platform.